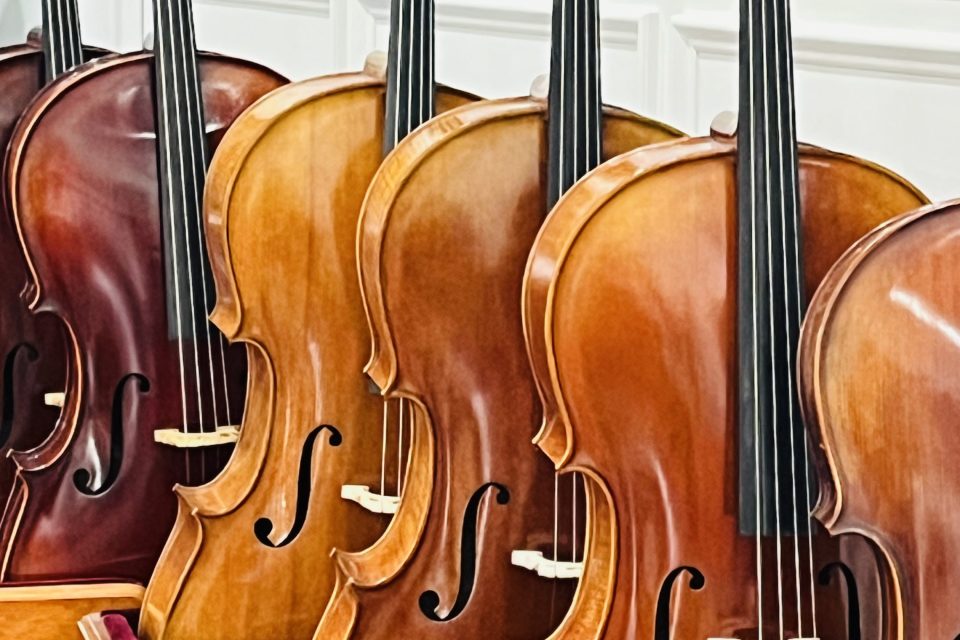 March 28, 2023
Comments:2
Purchasing a professional or intermediate level instrument is a big step and, especially for young musicians, can feel overwhelming. There are many choices and factors to consider when making this decision, and the choice is highly personal. Our job at Bernhardt House of Violins is to help our customers find an instrument that responds to their unique playing style and technique and one they will love for many years to come!
The following guide offers a summary of factors to consider both before trying out instruments and during the try-out process.
Here are a few factors to consider before trying out instruments:
What is my budget? For first time instrument buyers, settling on a budget for a new instrument can be challenging. As a first step, you can check our website, bernhardtviolins.com to view some of the instruments we carry. You can also call anytime during our business hours to inquire about instrument costs, and a member of our team will help you. If you have rental credit from an instrument rental, be sure to check your credit as this will be applied to the purchase of your instrument and will help gauge out-of-pocket cost.
Unlike our student rentals, each item in a step-up instrument outfit is sold separately. Will you need a new bow and a new case as well as an instrument? These are good questions to consider before your try-out as they will help determine your budget. Bernhardt carries a variety of bow and case options, and cases can be special-ordered to accommodate customers' preferences.
Financing: We offer 6-month interest-free financing with Synchrony on all purchases. This is a great option for customers who prefer to break the cost of purchasing an instrument into smaller monthly payments.
What is my playing level and musical goals? Players of different levels and aspirations require different instruments. The most important principle is that the instrument needs to respond to the player and provide room to grow. In other words, if a student advances quickly, both expressively and technically, a student instrument can limit his or her progress. You are getting better, but the instrument is not! When an instrument will not give the tone or power needed to perform at an advanced level, obtaining a new instrument is important. For a hobbyist, an entry-level step-up instrument provides a great next step. For a serious player who hopes to play professionally or continue music studies in college, a more advanced instrument is likely necessary, and this will factor into the customer's budget.
What does my private lesson or strings teacher advise? Many string teachers offer valuable guidance to their students when it is time to buy a step-up instrument. Customers are welcome to take an instrument on approval for one week to provide additional time to consider and check with their teacher.
Make an appointment! Though we always take walk-ins to try out step-up instruments, customers are welcome to make an appointment for their try-out. This helps us to best prepare for each customer and have instruments that match your criteria (e.g., playing level and budget) tuned and ready to play when you arrive.
What to expect during the try-out process? Welcome to Bernhardt! When you arrive, one our strings specialists will escort you to our show room. If details have not already been, we may spend a couple of minutes getting to know the player's level and aspirations and the budget the customer has in mind.
Generally, we begin with two instruments of similar value and provide the player time to play and compare these instruments side by side.
What should you play? Simple is often best! We recommend starting with an ascending, G major scale, drawing long, slow bows to listen to the sound of each instrument. Then you might move on to a simple piece of music you know well.
Below are a few aspects of an instrument's sound customers should consider when trying out each instrument:
Projection: Does the sound of the instrument carry in a large space?
Resonance: Some instruments have more depth and resonance than others. Does the instrument have a rich, full sound?
Brightness: Some instruments have a bright sound quality, while others have a dark, muted quality. This preference is personal, so it can help to know coming in what sound quality one prefers.
Responsiveness: How does the instrument feel in my hands? Can I easily obtain the range of expression I want, or does it feel difficult?
Once the customer expresses a preference between two instruments, the strings specialist will put one instrument back and choose a second for comparison. This process is repeated until the player settles on the instrument that is right for him or her.
If the customer plans to purchase a whole outfit (instrument, bow, and case), we will then move on to bows. But that is a topic for another day!
If you have any questions related to trying out a step-up instrument or would like to make an appointment, go to schedule an appointment today at bernhardtviolins.com or give us a call. We are here to help and are grateful to continue striving to realize store owner Joyce Miller's vision to provide quality string instruments on every level.