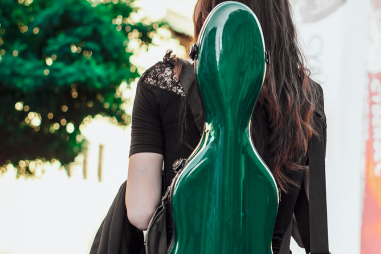 by

Karen Casio
June 1, 2023
The changing weather is a great time to think about traveling, whether nationally or internationally, and taking your instrument along can make the experience that much more pleasant and meaningful. However, depending on your mode of transportation, it may be profitable to plan well in advance, especially when driving or flying across national borders.
Are you traveling by car? If so, keep in mind the temperament of your instrument and bow as you journey from one region to another, particularly environmental changes, (i.e., humid, dry, etc.). And if you have not already purchased a quality hygrometer, doing so could prove worthwhile. Also, remember to NEVER pack your instrument in the trunk of a car or in the back of a pick-up truck. The unregulated temperature can cause irreparable damage to the instrument in a very short amount of time. Once arriving at your destination, be sure to take it indoors. If flying is more your style, then you may already be aware the Department of Transportation (DOT) issued a ruling "regarding the carriage of musical instruments as a carry-on baggage or checked
bagged on commercial passenger flights… [which went into effect] March 6, 2015." 1 As a result, all US air carriers are required to accommodate musicians traveling with their instruments. While this ruling has clarified boundaries for airlines and musicians, it is important to keep in mind that aircrafts can vary in size as well as seating capacity within any airline's fleet. Therefore, the potential for limited storage within the craft's cabin exists, so be sure to check the airlines' website regarding carry-ons. You will also want to emphasize traveling with a musical instrument when booking your flight, especially if your instrument is a cello or larger. "For some musical instruments that are too large to fit in the cabin stowage areas… (e.g., an overhead bin or under a seat), it is sometimes possible to secure them to a seat as "seat baggage" or "cargo in the passenger cabin." Thus, some musicians will purchase a ticket for their larger instruments for peace of mind instead of checking it in with their baggage, avoiding the risk of disastrous damage to their investment. However, there are weight and measurement restrictions but is permissible on some larger aircrafts "if storage space is
available." This is another good reason for planning your trip well in advance.
Whether you choose driving to enjoy the scenery or taking to the skies, things can get a bit "saucy" when it comes to crossing national borders. "If you are traveling with a musical instrument that contains Brazilian rosewood, elephant ivory, tortoiseshell, or another protected species, you will need to obtain proper legal documentation before crossing international borders." Securing these documents can easily take several weeks or longer. The following links may be helpful in answering some questions and/or concerns:
FWSE Permits Services .
1.Federal Register – Carriage of Musical Instruments
2.https://www.transportation.gov/sites/dot.gov/files/docs/Final_%20Rule_%20Musical_Instruments.pdf
3.https://fwsepermits.servicenowservices.com/fwsid=fws_kb_article&sys_id=a386c1861ba390501f45dbdbe54bcbca
Other sites that may be helpful:
https://www.transportation.gov/sites/dot.gov/files/docs/resources/individuals/aviation-consumer-protection/47261/musical-instruments-tip-sheet.pdf
https://www.namm.org/regulatory-compliance/endangered-species
CITES Protected Species Travel Tips